3D printable Miniatures
- Check out the STL files catalog
Explore over 100 character models and modular kits, all presupported and ready for 3D printing. In addition to five factions of miniatures useable as proxy models in grim dark tabletop war games, the Dorkfactory also offers original and distinctive dark sci-fi cyborg body horror designs for any scifi RPG setting.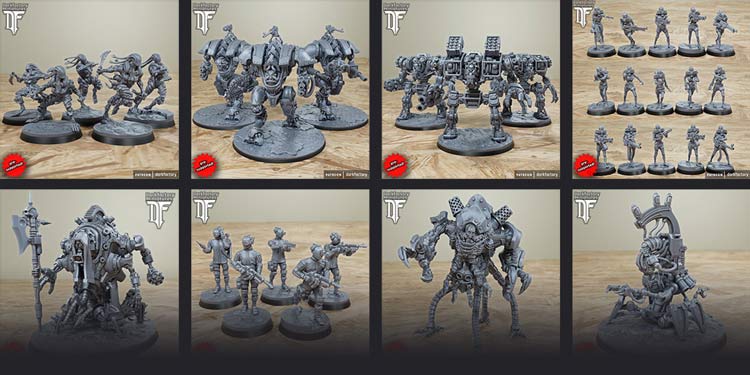 see more ready to print STL bundles at myminifactory.com

Support the factory and Reap the Rewards
---
Are you a fan of Dorkfactory miniatures? Would you like to support the ongoing creation of dark sci-fi minis? Imagine getting a fantastic deal on anything in the Dorkfactory catalog every month and more perks on top of that.
Join the dorkfactory patreon!
Patrons enjoy many perks and get exclusive content.
Patron Perks
Monthly Dork Points that can be traded for ANY dorkfactory miniatures
The Dorkfactory starter pack
A 30% discount in the MyMiniFactory Store
Cloud storage via the Dorkfactory Reward Portal
A special role in the Dorkfactory Discord server
Occassional guest models, votes, special events, and other surprises!
Dork Points
---
Many 3D-printable miniature Patreons follow a simple "FOMO" based system where every month you get a bargain on a big bundle of models that might never be cheap again. Miss a month and you might have to pay 3 or 10 times what it cost in the Patreon bundle to get what you're looking for. At the Dork factory, things are more open-ended.
You sign up at your preferred tier level and receive Dork Points each month. These points can be traded for ANY Dorkfactory models. You can grab the latest models, or if you're not feeling it, check out the extensive and growing catalog.
Dork Points offer you a great deal. Depending on your patron-tier and the models you choose, it's a 40-60% discount—just as good as or better than any of the big MyMiniFactory sales.
You can save the points for as long as you want, and anything you redeem in the reward portal website stays there, ready to be downloaded as many times as you need.
Plus, you have the flexibility to upgrade, downgrade, or even end your patronage at any time and your points and models will still be accessible in the reward portal website.
Welcome Pack Miniatures
---
Right off the bat you get 5 supported, tested and ready to print models (1 from each of the 5 dorkfactory factions)
Gorebot Bloodshot

from the Gorebots

Slasher Spawn

from the Xenoswarm

Reanimated Combat Drone

from the Dark Machinists

Corrupted Void Commando

from the Dread Army

Shadowspace Bloodseeker

from the Ancient Cyborg Bodystealer Cabal
Start earning Dork Points!
Join the Monthly Model Mail List!
Stay up to date on all things Dorkfactory and get regular free models! Either send an email to dorkfactoryminiatures@gmail.com with the subject "dork updates" or click the signup button and hit send!
Sign me up!
Explore Dorkfactory Across the Web
Check out and follow some of the many dorkfactory profiles and accounts.
Join the journey of creativity, dark sci-fi, and 3D printing. Whether you're into cyborg body horror, sci-fi horror, grimdark, or oldhammer inspired miniatures, the Dorkfactory has something for you.